Active shooter incidents are often unpredictable and evolve quickly. In the midst of the chaos, anyone can play an integral role in mitigating the impacts of an active shooter incident. DHS aims to enhance preparedness through a "whole community" approach by providing products, tools, and resources to help you prepare for and respond to an active shooter incident. To access the most applicable information, please select one of the provided categories.
Created to be effectively taught in a short amount of time no matter what experience you have.
Created by a seasoned Deputy Sheriff / City police officer with active shooter training.
"Critical window" training focused on the initial moment the shooting starts to when the shooter is stopped or the Police arrive.
The program comes with professional step by step manuals and a DVD.
Who Is The Active Shooter & Campus Intruder Response Plan For?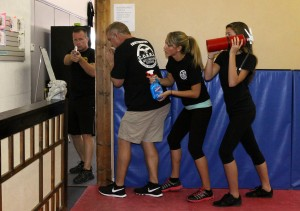 Courses are available for:



Private & Public School boards
Corporations / Businesses
Churches
Hospital
Custom Training Events
Instructor Training